#6: Control your Coviu experience
Following user feedback about usability, we revamped the Coviu user interface to provide more flexibility of the layout with better usage of space. This is also more easily adaptable to mobile.
In addition, we started providing features that are limited to the paid team accounts — in this instance it's the document save feature.
Subject: "Control your Coviu experience".
Date sent: 15th March 2016.

Hi user,
We've just released a completely revamped new interface to give you more flexibility with your experience.
Take charge of the user interface:
After loading a document, you can rearrange the size of videos and documents to your liking via the arrows between the spaces. This only changes the layout on your end — everyone else's layout is independent and can be different.
The document tray now stays open without overlapping the document space. Click the stack button to open and close it.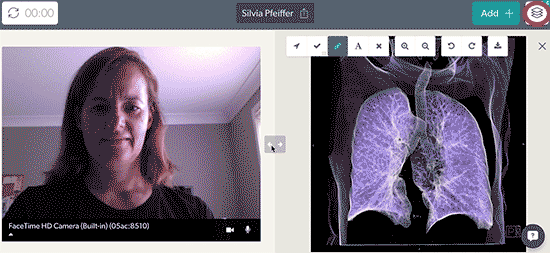 — -
Header and Footer merge to create more space:
Your local video is now in the top left corner. Click on it to check your camera positioning, turn the camera and microphone on/off, and switch between cameras.
Your room name and link are now in the top middle — this is where you copy the URL if you need to invite another user to the call.
The all-important document sharing button has moved over to the right next to the document tray button.


— -
Below is an additional feature for those of you with a team account. Team accounts are currently only available on request, but we are working towards a self-signup.
Save documents to local disk
We've introduced the ability to save pdf files, images or whiteboards with the option of saving the original file or the annotated image.

To save a picture of a screenshare or a shared camera, use their snapshot feature first to create a picture.

Don't have a team plan yet?
More on team plans!
https://coviu.com/checkout
— -
Other improvements:
We've uncovered some more edge cases for connection establishment and improved reliability of connections.
We've also made huge progress in supporting interoperability between Chrome and Firefox, however a Chrome bug inhibits full feature parity. You will not be able to screenshare or share a second video in a mixed browser environment, so you might want to encourage your peers to use the same browser as you for now.
We'd love to get your feedback — you can simply email support or me at silvia@coviu.com.
We're also happy to join you in a Coviu call to walk you through our features.

See you on Coviu!
https://coviu.com/