#5: 2015 Christmas Release
Until the Christmas release of 2015, our interaction tools on documents were quite limited — the release brought in document rotation, snapshot and removal features. Saving of annotated content was deemed very important to our customers and we've been making use of this functionality ourselves quite heavily when using Coviu to discuss plans in our team.
We also worked on the reliability of calls and provided a call reset button in cases where things go wrong as well as improved firewall handling.
Subject: "Merry Christmas from Coviu".
Date sent: 16th December 2015.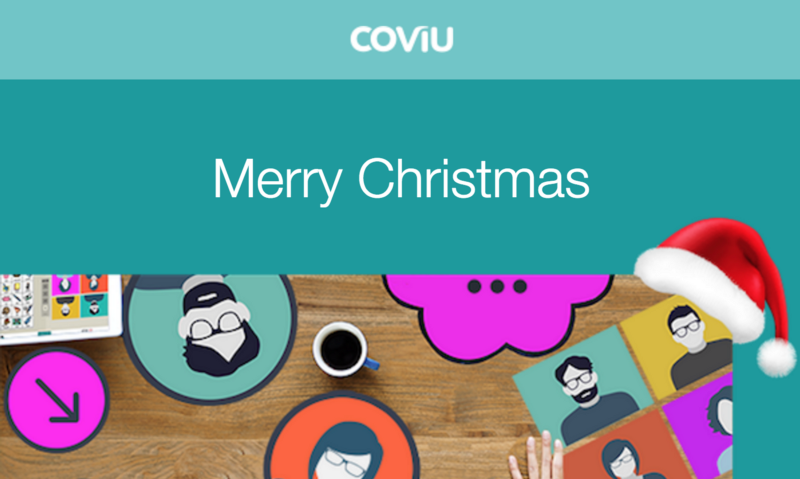 Hi user,
We're very excited to present you with our Christmas release! It's jam packed with new features — our Christmas presents to you.
Reconnect

The green button top left in video calls is now fully activated. Press it when the video or audio has gone bad to quickly reset the connection without losing all the shared documents.
Rotate

Sometimes, loaded images are the wrong way up, or a document camera displays a document upside deown — the rotate buttons allow you to rotate any document or video in the document space.
Snapshot

The toolbar for screensharing now has an additional snapshot button, which lets you capture a screenshare as an image into the document space. It also captures any annotations you have created.
Delete

Documents in the document tray can now be removed with a simple click on the "bin" button — so now you can be a bit more selective what to keep around and keep your tray tidy!

— -
Below are two additional features for those of you with a team account. Team accounts are currently only available as beta.
Improved firewall handling
For corporate users, firewalls are always difficult to deal with but we've now added an additional level of firewall handling to make an extra effort. There is still no guarantee — but we'll give it our best shot.
Share another camera
This feature allows you to bring "paper" into your conversation. You can now add a camera's input into your conversation as a document and draw, rotate, or zoom it. When combined with snapshot, it can be used to digitise documents.
Don't have a team plan yet?

[embed]https://coviu.com/checkout[/embed]
— -
We'd love to get your feedback — you can simply email silvia@coviu.com or pedro@coviu.com.
Thank you for your support and encouragement this year while we worked hard at building you a great collaboration platform. We will continue to roll out new and exciting features next year, but for now we would like to wish you and your loved ones a very Merry Christmas and a Happy New Year!
See you on Coviu!