#4: Bell, Firefox support and Self-signup
This mailout introduced a couple of new features with a particular focus on cross-browser support.
We're very passionate about Coviu being usable on whichever platform and browser a user prefers. However, working on a technology that is bleeding edge and where the standard hasn't been finalised yet also means that uniform support will take some time. We are excited about the plans for uniform implementation of WebRTC by Microsoft's Edge browser and Apple's Safari/WebKit team! They mean we may only be 6–12 months away from uniform browser support!
Another big step announced in this email is the self-signup. This finally made the Coviu app a proper online self-service platform.
Subject: "Bell, Firefox support and Self-signup".
Date sent: 27th October 2015.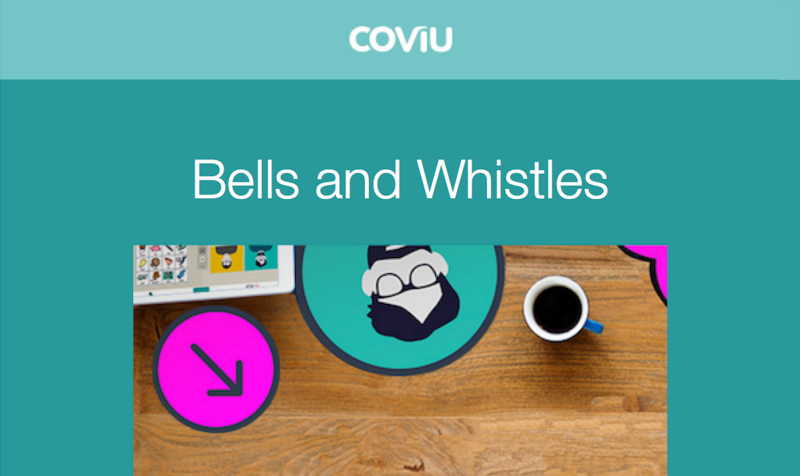 Hi user,
We are really excited to announce the latest updates to Coviu.
The first thing you will notice about the new release is a beautiful new design. Our user experience team has focused on a smooth and seamless user journey to help get new users up and running with ease.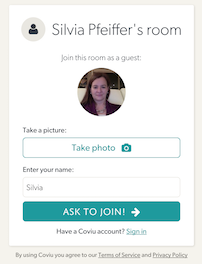 Concrete new features are:
A bell so you will hear your guests arrive in your room as you're waiting for them.
Addition of an image on your profile. The first time you use this new version of Coviu, you will be asked to supply a picture or take a photo. After that, go into the settings to change it.
Support for Firefox, Chromium and Google Chrome on all devices, including your Android tablets. Other platforms are in the works.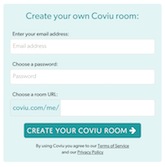 Finally our biggest news: we have opened up Coviu for free self-signup for individuals. If you enjoy Coviu, recommend us to your friends, colleagues, or even your business partners. Individuals receive a single URL at which to hold sessions — it's their personal room.
Incidentally, we have lined up some awesome features for our team product, so keep your eyes open for the next release.

We'd love to get your feedback — you can simply email silvia@coviu.com orpedro@coviu.com.
We're also happy to join you in a Coviu call to walk you through our features.
See you on Coviu!